KACHEMAK BAY BIRDERS
Kachemak Bay Birders, established in 2008, is an informal organization of individuals interested in birds, birding, and the conservation of birds.  We have no membership fees; our meetings and trips are free and open to the public.

2018 Year of the Bird
The following organizations have undertaken a bold initiative and named 2018 "The Year of the Bird", to mark, in part, the centennial of the Migratory Bird Treaty Act, a vital piece of legislation protecting migratory birds.

Throughout the year, these organizations will identify simple ways you can help protect bird species.  To sign up to receive the notifications go to: www.birdyourworld.org
The Kachemak Bay Birders will also be identifying ways you can help protect those bird species that call the Kenai Peninsula home – be it year-round residents or our summer resident birds.  For more information go to our "Year of the Bird" page.
2018 Bird of the Year – Semipalmated Plover

The votes are in and the winner of Kachemak Bay Birder's 2018 "Bird of the Year" is the Semipalmated Plover.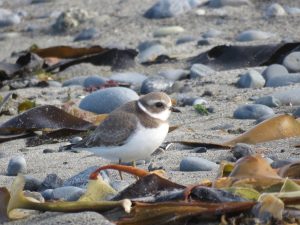 UPCOMING EVENTS

KBB MEETINGS/PRESENTATIONS 

(Note: no meetings in June or July.)
August 27th- Monthly Meeting and Presentation by Landon Bunting: Peru 
We will also have "Slides of Summer" by members and guests–bring a few of your best or most interesting shots to share.  AND  finger food! (Which is defined as anything you can eat off of a plate without needing silverware.)  Bring something to share.
PLEASE NOTE:
THIS YEAR OUR MEETINGS WILL START AT 5:00 PM!!
All meetings are at the Islands and Ocean Visitor Center (Homer, Alaska) and start at 5:00 pm.  Presentations start right after the meeting, unless otherwise noted.  All meetings are free and everyone is welcome. Co-sponsored by Kachemak Bay Birders and the Alaska Maritime National Wildlife Refuge. For more information: Lani Raymond (399-9477), lanibirder@gmail.com.
KBB TRIPS/ACTIVITIES
July 11th – To Seldodvia on the "Fast Ferry"  NOTE THIS IS A CHANGE OF DATE!!
From Louise Ashmun:
We will take the Seldovia Bay Ferry (aka The Fast Ferry) which leaves the Homer Ramp 7/JJ Dock (in front of the Harbor Master's Building) at 11 am. No reservations are required but tickets must be purchased at least 30 minutes prior to departure (by 10:30 am on Wed. 7/11). Tickets can be purchased in advance on line at ​http://seldoviabayferry.com/. Round-trip tickets cost $60 for seniors (ages 65 and over) and $80 for other adults (ages 14-64), plus taxes. This ferry leaves Seldovia at 4:30 pm to return to Homer. All passengers need to be at the dock 30 minutes prior departure to make the ferry.
Cindy Mom, a KBB member who owns and operates Seldovia Nature Tours (https://www.facebook.com/seldovianaturetours/), will provide a guided tour of various bird habitats that can be reached on foot from the Seldovia dock. The planned walking route is about 3 miles; if you choose to do less walking, various jumping off points will be suggested. Bring your scope if you have one (and are willing to pack it around the area) and any other birding equipment you might need. You will want to be prepared for any weather we might encounter and will want sturdy waterproof shoes/boots as a few of our steps may be muddy and the trail has a bit of uneven footing. When Paul and I visited a couple of weeks ago, there were some distracting mosquitoes around the lake and on the trail. You may want bug repellent or a head net. Bring a packed lunch, snacks, and water for the day. There are eateries in Seldovia, but we will not have time for a served meal during our short time in Seldovia.
I hope to see a lot of you joining us for this birding opportunity across the bay. For questions call Louise 907-299-6360.
August 18th – To the Anchor River
Michelle Michaud will lead a trip to the Anchor River.  Meet at Islands and Ocean Visitor Center parking lot  to carpool at 7:45 am or at the launch parking lot at the Anchor River at 8:30. (Park in the "Halibut" campground there which is the one adjacent to the Launch parking lot/area. Note: there is a $5 parking fee at the campground there, a good incentive to car pool.)
BIRDING WALKS AT THE WYNN NATURE CENTER–June 9th through July 28th from 8:00-9:30 am on Wednesdays and Saturdays (Mile 1.5 E. Skyline Dr.)
This is not a Kachemak Bay Birders' events, but we thought folks would like to know about them.  Morning birding walks twice a week led by a naturalist that knows the birds up there well.  Meet at the main cabin to begin the walk.  A donation to the Wynn Center is appreciated.
All trips and activities cosponsored by Kachemak Bay Birders and the Alaska Maritime National Wildlife Refuge.  All are free and everyone is welcome to attend.
——————————————————————————————————————————-