KACHEMAK BAY BIRDERS
Kachemak Bay Birders, established in 2008, is an informal organization of individuals interested in birds, birding, and the conservation of birds.  We have no membership fees; our meetings and trips are free and open to the public.

2018 Year of the Bird
The following organizations have undertaken a bold initiative and named 2018 "The Year of the Bird", to mark, in part, the centennial of the Migratory Bird Treaty Act, a vital piece of legislation protecting migratory birds.

Throughout the year, these organizations will identify simple ways you can help protect bird species.  To sign up to receive the notifications go to: www.birdyourworld.org
The Kachemak Bay Birders will also be identifying ways you can help protect those bird species that call the Kenai Peninsula home – be it year-round residents or our summer resident birds.  Stay Tuned.
UPCOMING EVENTS

NEXT MEETINGS and EVENTS


Great Backyard Bird Count
February 16-19, 2018
Join thousands of others nationwide as they count birds observed over the four-day period.  You can count as little as 15 minutes or longer.  You can count one day or up to all four days.  You can count birds in your backyard, your neighborhood, on the Homer Spit, or wherever you may be located.  Once you've counted the total number of each species you've observed during the four day-period, you need to report your findings. 
The information you need to report includes: Start and stop time (when you began and ended your observation), the date of your observation, where you saw the birds, which species you observed, and how many of each species.  Report your findings on eBird (go to http://eBird.org) or at http://gbbc.birdcount.org/. Don't have an eBird account?  Go to: http://help.ebird.org/customer/portal/articles/1972661.  It's easy to get started on eBird.  And there is also an eBird app you can download to your smartphone and record as you go.   You should make a separate report for each location and for each day.

So what is eBird?  eBird is a Cornell Lab of Ornithology citizen science project that allows individuals to list bird sightings worldwide.  Millions of bird sightings are contributed annually to eBird.  Do you want to know if a particular bird has been sighted in Homer and when? Then check out eBird.  According to Cornell, your eBird observations help scientists track the health and distribution of bird populations throughout the United States during a particular point in time.  And that is one way to help birds during this 2018 Year of the Bird. 
KBB MEETINGS AND PRESENTATIONS

February 26th—Meeting and Presentation by Arthur Kettle: Barren Islands' Seabird Monitoring
April 2nd–Meeting and Presentation by Aaron Lang: Shorebird Identification  (please note this meeting was changed from March 26th!)
April 30–Meeting and Presentation T.B.A.
All meetings are at the Islands and Ocean Visitor Center (Homer, Alaska) and start at 4:30 pm. Presentations start right after the meeting, unless otherwise noted.  All meetings are free and everyone is welcome. Co-sponsored by Kachemak Bay Birders and the Alaska Maritime National Wildlife Refuge. For more information: Lani Raymond (399-9477), lanibirder@gmail.com.
KBB BIRDING TRIPS
March: "Leader's Choice". Leader: Jim Herbert (date/time to be announced)
April 28th to the Anchor River. Leader: Michael Craig (907-235-0631). Meet at the Islands and Ocean Visitor Center at 2:15 pm to carpool or at the Anchor River boat ramp at 3:00 pm.

NOTE:  This is a new date as the March for Science and the start of KBB Shorebird Monitoring are both scheduled for April 14th.

All trips cosponsored by Kachemak Bay Birders and the Alaska Maritime National Wildlife Refuge.  All are free and everyone is welcome to attend.
——————————————————————————————————————————-
Kachemak Bay Shorebird Festival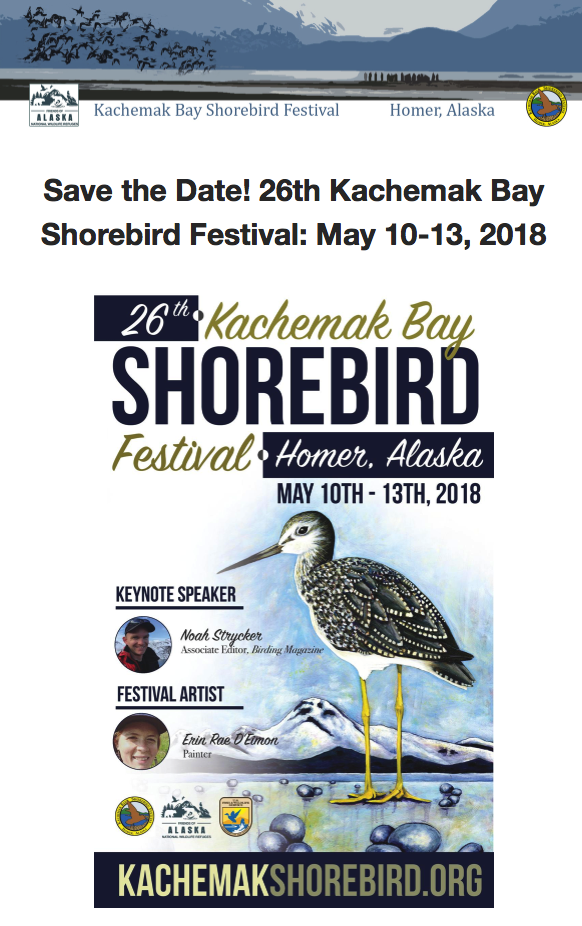 For more information on the shorebird festival go to: http://kachemakshorebird.org/.  The Shorebird Festival Committee is always looking for volunteers to help at viewing stations, and more.  Can you help out?  Contact the Friends of Alaska National Wildlife Refuges' Volunteer Coordinator (and Kachemak Bay Birder member) Betty Siegel at: bettysiegel@gmail.com.
——————————————————————————————————————————-
Winter Doldrums?
Watching birds near your home is good for your mental health: People living in neighborhoods with more birds, shrubs and trees are less likely to suffer from depression, anxiety and stress — ScienceDaily. For more info:  www.sciencedaily.com/releases/2017/02/170225102113.htm
——————————————————————————————————————————-
2017 Seabird Report Card
The Alaska Maritime National Wildlife Refuge has prepared a 2017 Seabird Report Card: