KACHEMAK BAY BIRDERS
Kachemak Bay Birders, established in 2008, is an informal organization of individuals interested in birds, birding, and the conservation of birds.  We have no membership fees; our meetings and trips are free and open to the public.

---
CHRISTMAS BIRD COUNT INFORMATION
Homer's Christmas Bird Count Final Report (12-15-18)
This year we had a heavy snowfall the night before, but Homer's birders found 71 species, a record number for any previous Count here. The huge snowfall meant slogging through deep snow in most places, but apparently the snow encouraged the birds to be out and about looking for some chow. It was not too cold and fortunately not much wind except out on the spit.
There were no new species found this year but some rarer species found were: Mountain Bluebird, White-throated Sparrow, Short-eared Owl, Red-faced Cormorant, Double-crested Cormorant, AND four Anna's Hummingbirds! For Count Week two additional species were found: Rusty Blackbird and Lesser Scaup.
Our overall count of individual birds (5540) was down this year due to low Rock Sandpiper and Mallard counts. Fewer Rock Sandpipers were seen this year (612) compared to twice that many last year. This number was due to the tide and daylight as it was dark at high tide and there was ice in Mud Bay. Due to ice, only a few Mallards were found (15) compared to last year's 2251! A couple years we've found none at all, a few days after thousands were all over everywhere.
One common bird was unexpectedly AWOL this year. Where were the Steller's Jays? Not even one was seen on the Count Day nor any the whole Count Week! Two notices were sent out to all birders to ask folks to look for them and report any seen during that week. Even with that prompting, no one saw any. Where did they hide?
We found a record number of American Robins (385), some of which are still with us, happy to say. Bald Eagles and Northwestern Crow numbers were both similar to previous years.
A big thanks to all the volunteers who participated, to the Alaska Maritime National Wildlife Refuge, our cosponsor, and to Dave Erikson for coordinating our Christmas Bird Count.
It was indeed A Very Great Day to Bird! That's our motto.
********View the complete species list here.********
                            ****************
UPCOMING EVENTS
KBB MEETINGS/PRESENTATIONS/EVENTS 
PLEASE NOTE: ALL OUR REGULAR MEETINGS START AT 5:00 PM
This meeting may possibly need to be held in another location due to the government shutdown.  We will post location soon; check back closer to the 28th.
January 28th–Monthly Meeting and Presentation by Gary Lyon, Dale Chorman and Jim Herbert: "Aleutian Voyage"
All meetings are at the Islands and Ocean Visitor Center (Homer, Alaska) and start at 5:00 pm.  Presentations start right after the meeting, unless otherwise noted.  All meetings are free and everyone is welcome. Co-sponsored by Kachemak Bay Birders and the Alaska Maritime National Wildlife Refuge. For more information: Lani Raymond (399-9477), lanibirder@gmail.com.
TRIPS/ACTIVITIES
THIS TRIP IS CANCELLED DUE TO THE GOVERNMENT SHUTDOWN!!  
Saturday, January 19th, BIRDING AT THE ANCHOR RIVER
Meet at the launch parking lot at the Anchor River at 1:00 pm or at Islands and Ocean Visitor Center at 12:15 pm to car pool. Leader: Michael Craig (235-0631).
All trips and activities cosponsored by Kachemak Bay Birders and the Maritime National Wildlife Refuge.  All are free and everyone is welcome to attend.
2018 Year of the Bird
The following organizations have undertaken a bold initiative and named 2018 "The Year of the Bird", to mark, in part, the centennial of the Migratory Bird Treaty Act, a vital piece of legislation protecting migratory birds.

Throughout the year, these organizations will identify simple ways you can help protect bird species.  To sign up to receive the notifications go to: www.birdyourworld.org
The Kachemak Bay Birders will also be identifying ways you can help protect those bird species that call the Kenai Peninsula home – be it year-round residents or our summer resident birds.  For more information go to our "Year of the Bird" page.
2018 Bird of the Year – Semipalmated Plover

The votes are in and the winner of Kachemak Bay Birder's 2018 "Bird of the Year" is the Semipalmated Plover.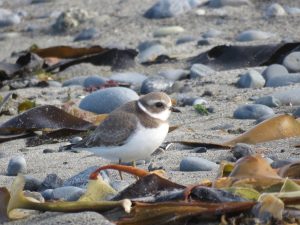 ——————————————————————————————————————————-