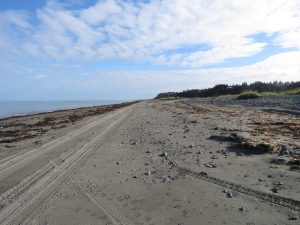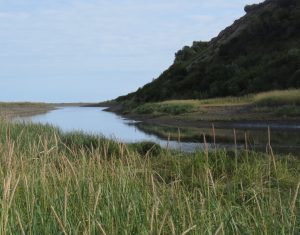 The Anchor Point Beach is a good beach for migrating (spring and outbound) shorebirds.  Spring migration begins in late April and peak mid May (spring migration).  Outbound migration begins late June and you can find shorebirds into September, and occasionally October. 
The best place to see shorebirds is generally within 500 feet of the parking lot or at the mouth of the river, approximately 1.3 miles from the parking lot.  Shorebirds can also be observed along the Anchor River.  There is a road that parallels the river. 
In the day-use parking lot and campground, a variety of songbirds can be observed during the spring and summer. 
Seabirds can be observed on or flying over Cook Inlet.  Outbound migration (July-September) can bring an abundance of seabirds, including Sooty Shearwaters, Tufted and Horned Puffins, and Murrelets (Marbled and Kittletz). 
Be sure to also check out the wetlands next to the parking lot in the spring and fall for waterfowl and shorebirds. 
Be aware of the tides.  Tides in Alaska can be extreme at times.  It is always best to visit the beach during an outgoing tide.  Shorebirds are best observed when the tide is between 12-14 feet.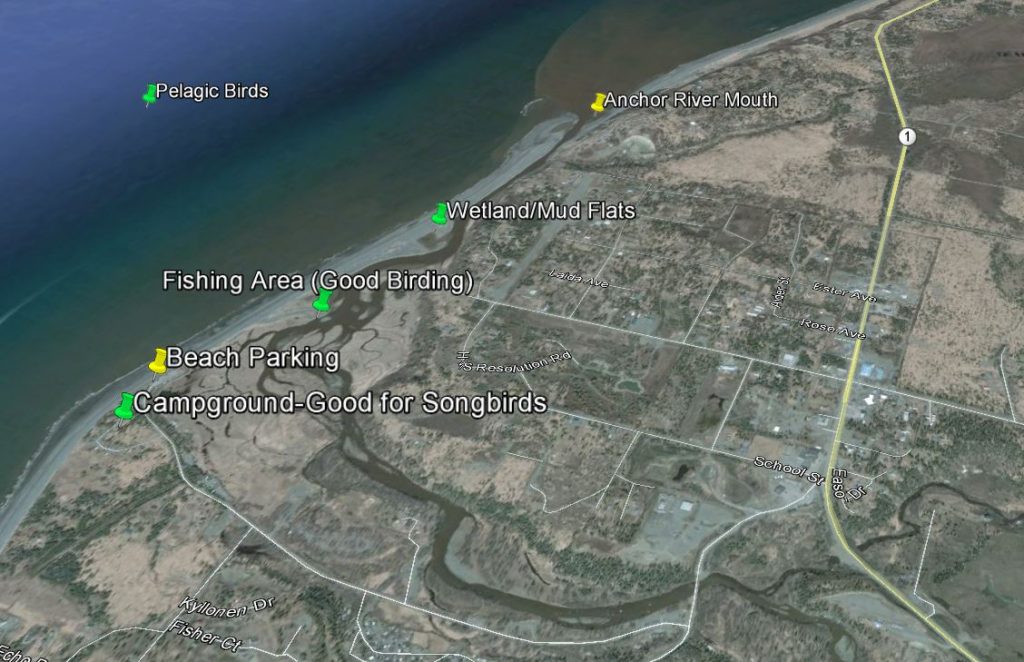 Directions: 
From Homer take the Sterling Highway to Anchor Point.  Turn left on to the Old Sterling Highway (left), drive over the bridge, and take the first right (Anchor Point Road).  Drive this road to the end and park in the parking lot.  A $5.00 parking fee is charged.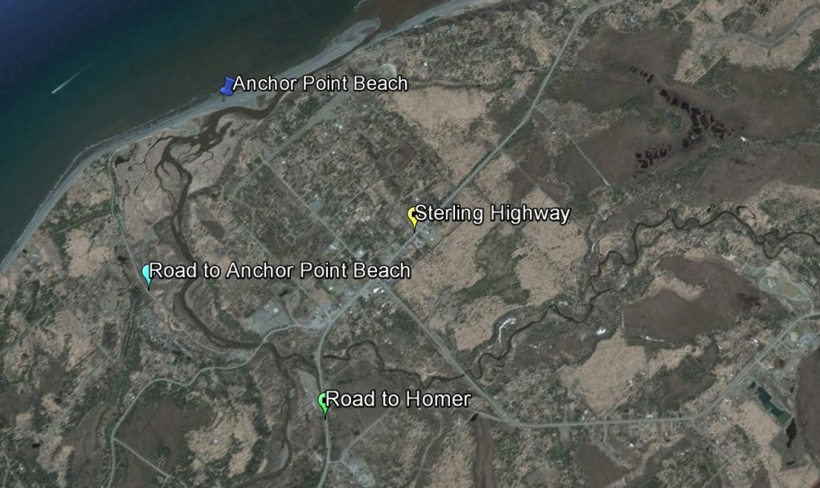 List of Bird Species Observed at Anchor Point Beach/Anchor River
Over 170 species have been observed at the parking long, along the Anchor River, over Cook Inlet, or along the beach at Anchor Point throughout the year. 
Mallard

American Widgeon

Eurasian Widgeon

Gadwall

Greater Scaup

Lesser Scaup

Long-tailed Duck

Red-Breasted Merganser

Common Merganser

Canvasback

Northern Pintail

Northern Shoveler

Green-winged Teal

Common Goldeneye

Barrow's Goldeneye

Harlequin Duck

Common Eider

Steller's Eider

Bufflehead

Ring-necked Duck

Surf Scoter

White-winged Scoter

Black Scoter

Canada Goose

Brandt

Greater-White Fronted Goose

Snow Goose

Cackling Goose

Trumpeter Swan

Red-necked Grebe

Horned Grebe

Pacific Loon

Common Loon

Red-throated Loon

Yellow-billed Loon

Sooty Shearwater

Buller's Shearwater

Short-tailed Shearwater

Pelagic Cormorant

Great Blue Heron

Sandhill Crane

Spruce Grouse

Ring-necked Pheasant

Short-eared Owl

Northern Harrier

Turkey Vulture

Golden Eagle

Bald Eagle

Red-tailed Hawk

Northern Goshawk

Peregrine Falcon

Merlin

Osprey

Rough-legged Hawk

Sharp-shinned Hawk

Black-bellied Plover

American Golden Plover

Pacific Golden Plover

Killdeer

Semi-palmated Plover

Whimbrel

Marbled Godwit

Hudsonian Godwit

Bar-tailed Godwit

Bristle-thighed Curlew

Greater Yellowleg

Lesser Yellowleg

Dunlin

Western Sandpiper

Least Sandpiper

Semi-palmated Sandpiper

Pectoral Sandpiper

Rock Sandpiper

Buff-breasted Sandpiper 

Sanderling

Baird's Sandpiper

Short-billed Dowitcher

Long-billed Dowitcher

Wandering Tattler

Sharp-tailed Sandpiper

Solitary Sandpiper

Red Knot

Black Turnstone

Ruddy Turnstone

Surfbird

Red Phalarope

Wilson's Snipe

Black Oystercatcher

Pigeon Gullimot

Marbled Murrelet

Kittletz Murrelet

Ancient Murrelet

Common Murre

Horned Puffin

Tufted Puffin

Cassin's Auklet

Rhinocerous Auklet

Parakeet Auklet

Parasitic Jaeger

Pomeraine Jaeger

Long-tailed Jaeger

Glaucous-winged Gull

Glaucous Gull

Mew Gull

Lesser Black-backed Gull

Black-egged Kittiwake

Sabine's Gull

Bonaparte's Gull

Herring Gull

Thayer's Gull

Northern Fulmar

Arctic Tern

Aleutian Tern

Caspian Tern

Rock Pigeon

Hairy Woodpecker

Downy Woodpecker

American Three-toed Woodpecker

Northern Flicker

American Dipper

Common Raven

Northwestern Crow

Black-billed Magpie

Gray Jay

Steller's Jay

Northern Shrike

American Robin

Hermit Thrush

Varied Thrush

Swainson's Thrush

Tree Swallow

Bank Swallow

Violet-Green Swallow

Cliff Swallow

Black-capped Chickadee

Boreal Chickadee

Brown Creeper

Red-breasted Nuthatch

Rudy-crowned Kinglet

Golden-crowned Kinglet

Pacific Wren

Alder Flycatcher

Olive-sided Flycatcher

Western Wood-Pewee

Northern Waterthrush

Yellow-rumped Warbler

Orange-crowned Warbler

Townsend's Warbler

Song Sparrow

Fox Sparrow

Golden-crowned Sparrow

White-crowned Sparrow

Savannah Sparrow

Lapland Longspur

Lincoln's Sparrow

Snow Bunting

American Pipit

Eastern Yellow Wagtail

Rusty Blackbird

Red-winged Blackbird

Eurasian Starling

Eurasian Skylark

Horned Lark

Red Crossbill

White-winged Crossbill

Pine Siskin

Common Redpoll

Pine Grosbeak

Gray-crowned Rosy Finch
Check the latest ebird for a listing of sightings:  http://ebird.org/content/ak/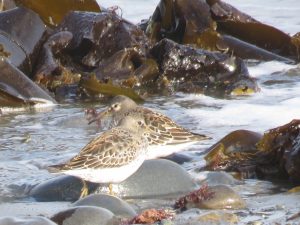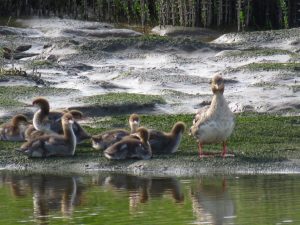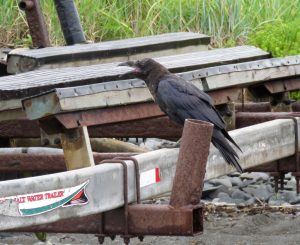 IT'S A GREAT DAY TO BIRD