KACHEMAK BAYBIRDERS
December 14th

at 6:30 pm Dave Erikson's "Winter Bird Identification Class"at Islands and Ocean Visitor Center
December 16th
CHRISTMAS BIRD COUNT–all day.
Coordinator is Dave Erikson. 
Meet at Islands and Ocean in the Seminar Room at

8:30 am

to get team assignment. Tea/coffee and breakfast foods available.
Information below about this important Citizen Science event.
2023 CHRISTMAS BIRD COUNT
Once again, it's time to start planning for the annual Homer Christmas Bird Count (CBC), which will be held on Saturday, December 16, 2023. This year's count will be conducted in similar manner as those pre-COVID-19. Masks are encouraged. Coordinator/compiler is Dave Erikson (derikson@alaska.net; 907 441-7931).

Count Circle: The area used for the CBC is a 15-mile diameter circle centered in at the base of the Homer Spit. The eastern boundary is near Fritz Creek on East End Road and the western boundary is near Virginia Avenue on the Sterling. Southern boundary is in offshore Kachemak Bay. The northern boundary is in the roadless area of Anchor River Drainage.
Count Day: Count Day will start with a pre-count meeting at 8:30 AM at the islands and Ocean (I&O) Visitor Center. Hot drinks, such as coffee, tea and hot chocolate will be available along with and breakfast snacks. Following a short meeting, count area teams will head out to the respective count areas at 9:00 AM. Teams will methodically survey their areas and count all bird species seen or heard and numbers of individuals until 4:30 PM. Owling can also occur during the hours of darkness on count day. Following the cutoff period for daylight counting, all volunteers will meet back at the I&O Visitor Center to discuss the results of the count and tally the number of species observed.  A potluck is planned.

Count Week: Three days before and three days after the count day (December 13-15 and 17- 19) is referred to as Count Week. Any bird species (no numbers) seen or heard by count participants within the Count Circle area during these time periods needs to be recorded and reported to the compiler as "count week" species.
Count Area Teams: interested team members can contact team leaders directly (contact information posted soon).  Also you can join a team at the morning gathering at 8:30 at I.O. Counters must fill out a Rare Bird Form for any species not listed on the Homer CBC checklist. If possible, include photos of any rare birds.
Count Data: All count data should be recorded either on an eBird Checklist and shared with Dave Erikson (eBird ID: Derikson48a) or on our regular Homer CBC checklist field form and emailed to the compiler, Dave Erikson (derikson@alaska.net; 907 441-7931).
Feeder Watchers: On Count Day, feeder watchers should record the species of bird, maximum numbers of each species at the feeder at a specific time, and the amount of time spent observing the feeder. Results should be submitted to the Feeder Watcher Coordinator, (Kathy Eagle; katheagle@gmail.com; 907 232-3789).
January

"Leader's Choice" Dave Erikson.  Location/date/time T.B.A
All Kachemak Bay Birding trips are cosponsored by the Alaska Maritime National Wildlife Refuge. All trips are free and everyone is welcome to attend. Masks encouraged and all trips will comply with FWS covid-safe practices. 
*MEETINGS/PRESENTATIONS
Meetings at the Islands and Ocean Visitor Center, begin at 5:30 pm (unless otherwise indicated).
December 4th Presentation by Aaron Lang: "Birding in the Arctic National Wildlife Refuge" was recorded and the link will be posted here soon.
NOTE: more information on the Friends of the Alaska National Wildlife Refuges website: https://alaskarefugefriends.org/category/events/special-events/

*December 11-13th: Bird Conference in Anchorage                                Theme is "Bring Back the Birds".
January 29th Meeting and Presentation by Jim Herbert: "Gambell–Birding On the Western Edge"
All Kachemak Bay Birders' Meetings, activities and birding trips are cosponsored by the Alaska Maritime National Wildlife Refuge. All events are free and everyone is welcome to attend. Masks encouraged and all trips will comply with FWS covid-safe practices.

October 7th Owling

on the Ohlson Mountain Rd.
Fifteen hardy birders met at 8:00 pm, Saturday, October 7, at mile .9
Ohlson Mountain Road. It was a mostly clear, relatively warm night at 40
degrees and neither wind nor rain intervened. We played the calls of
Northern Saw-whet, Great Horned and Boreal Owls. After about 20 minutes
we got a fairly close response from a Northern Saw-whet, which all of us
heard. A bit later a few of us heard two more simultaneous calls of
likely Saw-whets.
After about 45 minutes we all moved about two miles to the terminal end
of East Skyline Drive, where there is a bus turnaround. We played the
same calls there and added a few bars of Great Gray Owl calls. We
listened here for about 30 minutes to no avail. However it was a
pleasant, quiet night punctuated by shooting stars, and a chance for
some of us to get caught up.
And a great night to "Owl"!
Seldovia (9-9-23

)–from Cindy Mom and Deborah Gitlitz
Three Homerites and four Washington State residents rode the Seldovia Bay Ferry from Homer over to Seldovia on the morning of September 9th, from 11:00-11:45 AM. While aboard on the ride across Kachemak Bay, they observed MURRELETS, GULLS, LOONS, PHALAROPES, MURRES, KITTIWAKES, and a rainbow.
Once arrived in Seldovia, they met up with leader Cindy Mom and her friend Deborah from Portland, OR, who had (just moments before!) seen a PEREGRINE FALCON while waiting in the harbor. Unfortunately, it was out of sight headed northeast before the group had a chance to see it. Together, we birded the harbor and Main Street for about 30 minutes, where we saw:
2 BLACK-LEGGED KITTIWAKES
Plus, closeup views of a sea otter eating a crunchy crab.
We caught a cab out to the RV Park, where we met up with Seldovian Heidi Geagel, had a lunch break and were surrounded by the chittering calls of at least 25 WHITE-WINGED CROSSBILLS. Also in the deep spruce forest on the top of the bluff, we observed:
6 CHESTNUT-BACKED CHICKADEES
2 GOLDEN-CROWNED KINGLETS
1 COMMON RAVEN (plus 4 more later at the beach)
The top of the cliffs provided an excellent vantage point over the ocean, and we saw a nice representation of the first of the autumn/winter seabirds:
Half of the group split off at this point and caught a cab back to town, while the other half hiked the Otterbahn Trail. Along the trail they observed:
3 CHESTNUT-BACKED CHICKADEES
5 WHITE-WINGED CROSSBILLS
We did have to dodge a few raindrops, but the weather was surprisingly agreeable with sunshine and calm winds. Thanks to everyone who came over to the Seldovia side of the bay! Hope you can come back again soon.
Trip report by Cindy Mom, with help from Carol Harding and Deborah Gitlitz.
Anchor River (8-12-23)

–from Michelle Michaud
Despite the threat of wind and rain, we actually had a very pleasant trip – light wind, and several spotty rain showers lasting less than a minute or so.  Five birders, including a young woman from Georgia, spotted 30 different species for the trip.  She was happy because a lot of the birds were life birds for her.  
There was a large number of Horned Puffins (30+) feeding with a number of gulls.  Nice to see them on the water, rather than flying. We got great looks with spotting scopes. Fun too to watch them coming in for a landing with their orange/red legs splayed out.  
Always nice to see shorebirds on their way south – seven different species.  We got really nice looks at Rock Sandpipers, Sanderlings, and Pacific Golden-Plover.  
Mallard

Barrow's Goldeneye

Red-breasted Merganser

Red-necked Grebe

Pacific Golden-Plover

Semipalmated Plover

Sanderling 

Rock Sandpiper

Semipalmated Sandpiper

Western Sandpiper

Greater Yellowlegs

Common Murre

Pigeon Guillemot

Marbled Murrelet

Ancient Murrelet

Horned Puffin 

Black-legged Kittiwake 

Short-billed Gull 

Herring Gull

Glaucous-winged Gull 

Arctic Tern

Pacific Loon

2 Common Loon

Sooty Shearwater

Bald Eagle

Belted Kingfisher

Black-billed Magpie

5American Crow 

Savannah Sparrow

Song Sparrow
All in all, it was a GREAT DAY TO BIRD …
Anchor River (7-8-23)

–from Michelle Michaud
The forecast was for cloudy skies and winds in excess of ten miles per hour, with gusts to 18 mph. The morning started out cloudy, but then the sun came out.  Winds, what winds?  It was a very pleasant morning.  And there were no boats being launched (they got the same wind report so cancelled their services) and few people and dogs on the beach. 
Eight people, including Jim and I, showed up to bird the Anchor River and the beach.  Two of the participants were birders from Grand Rapids Michigan.  We were glad they could join us.
And birds – 30 different species.  What did you miss … well here's the list.  
Surf Scoter
White-winged Scoter
Black Scoter
Common Merganser
Whimbrel – at least 67
Black Turnstone – well over 100
Surfbird – at least 50
Least Sandpiper – only two for sure, but possibly 4 total
Greater Yellowlegs
Common Murre
Pigeon Guillemot
Ancient Murrelet – and close to shore for good looks
murrelet sp. – mostly likely Marbled Murrelets, but only saw these birds in flight
Horned Puffin
Short-billed Gull
Herring Gull
Glaucous-winged Gull 
Herring x Glaucous-winged Gull (hybrid)
Red-throated Loon – at least one pair
Pacific Loon
Common Loon
Bald Eagle
Belted Kingfisher – nice views at it hovered over the river, and then again when it landed on stumps
Black-billed Magpie – heard
American Crow – the young were very vocal about wanting to be fed
Bank Swallow
Savannah Sparrow
Song Sparrow
Orange-crowned Warbler
Yellow Warbler – heard by several of us at the start of the trip
Remember, July and August are great months to check out the outbound migration of shorebirds at the Anchor River beach.  It's best to go when the tides are outgoing and around 9 feet – exposing the rocks where the birds love to feed.  
I want to thank all those who came out to bird this morning, and a special thanks to my co-leader Jim Herbert.  
Fireweed Meadows Golf Course in Anchor Point (6-24-23)
Saturday morning Kachemak Bay Birder early birds enjoyed wonderful new territory for a birding trip.  Rich Kleinleder led a walk around the Anchor Point Fireweed Meadows Golf Course for a dozen birders, including some visitors from out of state.
In spite of some fog, about 15 species were heard or seen. RING-NECKED DUCKS were seen on a little pond as well as nesting COMMON GOLDENEYE.  A couple folks got to watch fledgling BOREAL CHICKADEES being fed by their parents.  A huge thank you to Rich for leading this trip and helping us out with the songs and behaviors, etc. Rich has been doing Breeding Bird Surveys in this area for 30 years.
The following species were seen or heard: RING-NECKED DUCK, COMMON GOLDENEYE, ALDER FLYCATCHER, AMERICAN CROW, BLACK-BILLED MAGPIE, BOREAL CHICKADEE, HERMIT THRUSH, AMERICAN ROBIN, DARK-EYED JUNCO, GOLDEN-CROWNED SPARROW, FOX SPARROW, WHITE-CROWNED SPARROW, ORANGE-CROWNED WARBLER, YELLOW-RUMPED WARBLER, TOWNSEND'S WARBLER.  (If anyone has other species on their list, please let me know.)
It was enjoyable to see the wildflowers in bloom also!  And I will mention the rooster chickens crowing and some squirrels and hares in the area; the golfers came just at the end.
As our motto always promises, It Was A Great Day To Bird!!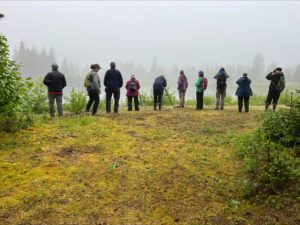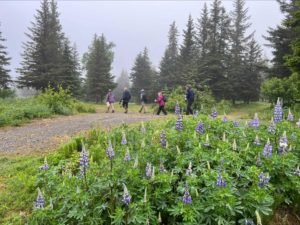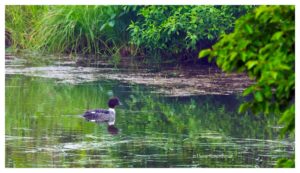 Birding Trip on the Bay Crest Trail: 5-20-23
Kristine Sowl, trip leader reported that they "had a very pleasant morning birding. Weather was good, winds calm, trail was very muddy…We had excellent views of orange-crowned and yellow-rumped warblers, Lincoln's sparrows, and spruce grouse. We glimpsed one large mystery bird that none of us were able to pin down what it was. But may have been a harrier or a large owl." There were 9 participants.
The following species were seen or heard: SPRUCE GROUSE, WILSON'S SNIPE, BALD EAGLE, BLACKBILLED MAGPIE, AMERICAN CROW, COMMON RAVEN, BOREAL CHICKADEE, RUBY-CROWNED KINGLET, HERMIT THRUSH, AMERICAN ROBIN, VARIED THRUSH, BLACK-CAPPED CHICKADEE, RUBY-CROWNED KINGLET, FOX SPARROW, DARK-EYED JUNCO, GOLDEN-CROWNED SPARROW, LINCOLN'S SPARROW, SAVANNAH SPARROW, ORANGE-CROWNED WARBLER, YELLOW-RUMPED WARBLER, WILSON'S WARBLER, Woodpecker sp. drumming.
A big thanks to Kristine for leading this trip.  Photos of birders thanks to Jim Herbert; photos of birds thanks to Kristine.
It Was A Great Day To Bird!!