Are you wondering where to find birds in Alaska?  Are you looking for rare birds sighted in Alaska?  There are a number of resources available to you.
SIGHTINGS:
Homer Bird Sightings
For more information go to: http://kachemakbaybirders.org/phpBB3/viewforum.php?f=2
Kenai Peninsula Birding Sightings
Like with the Alaska Birding Yahoo Group, this Yahoo Group also allows you to read previous posts on their webpage or you can sign up to receive emails of posted sighting.
For more information go to: groups.yahoo.com/neo/groups/kpbirding/info
Seward Bird Sightings
AK Birding Yahoo Group
This website is a compilation of the different sightings of birds, generally rarities, seen in Alaska. 
You have two options available: 
Check out the website daily to see what has been reported, or

Sign up to receive an email of each sighting join the group
For more information go to: groups.yahoo.com/neo/groups/akbirding/info
eBird Alerts
The Cornell Lab of Ornithology through their e-Bird program allows individuals to sign up to received alerts of rare birds.  You can sign up for one or more of the following:
ABA Rarities

Rare Bird Alerts

Needs Alerts
For more information go to: ebird.org/ebird/alerts
For Additional Bird Alerts see:  ak.audubon.org/birds/alaska-birding-listserves-and-social
WHERE TO FIND BIRDS:
[[[Insert info here]]]

A Birder's Guide to Alaska by George C. West. 
This guide can be found at the Homer Bookstore.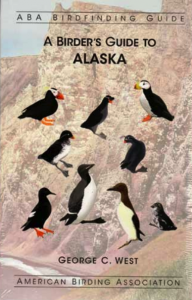 You can also purchase the book on line at:
American Birding Association: http://www.aba.org/siteguides/ak.html
Amazon: https://www.amazon.com/Birders-Guide-Alaska-ABA-Birdfinding/dp/1878788485
Alaska's Kenai Peninsula Wildlife Viewing Trail Map and Guide Book
The map is a tool to help birders locate birds at 65 viewing stations located throughout the Kenai Peninsula. The map is a companion to the guide.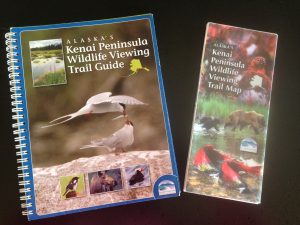 These publications can be obtained at the following locations or purchased on line:
Alaska Maritime National Wildlife Refuge – Islands and Ocean Visitor Center gift shop (Homer Alaska)
Kenai National Wildlife Refuge Gift Shop
Happy Birding….