Important Bird Areas (IBA) are those areas identified by the National Audubon Society and BirdLife International as places or habitats essential for bird populations.  The goal of the IBA program is to "conserve birds by identifying, monitoring, and protecting critical bird habitats", (Alaska Audubon). 
IBAs include sites for breeding, wintering, and/or migrating birds. IBAs may be a few acres or thousands of acres, but usually they are discrete sites that stand out from the surrounding landscape. IBAs may include public or private lands, or both, and they may be protected or unprotected.
To qualify as an Important Bird Area, sites must satisfy at least one of the following criteria. The site must support:
Species of conservation concern (e.g. threatened and endangered species)

Restricted-ranges species (species vulnerable because they are not widely distributed)

Species that are vulnerable because their populations are concentrated in one general habitat type or biome

Species, or groups of similar species (such as waterfowl or shorebirds), that are vulnerable because they occur at high densities due to their congregatory behavior
(National Audubon Society)
In the Homer area, four (4) IBAs have been identified:
Homer Spit: This marine IBA extends from Bluff Point at the mouth of Kachemak Bay to the outer shore of Homer Spit, a long, narrow natural jetty extending 4.5 miles into Kachemak Bay.  Mud Bay/Coal Bay is a sheltered tidal mudflat located at the base of the Spit where it adjoins the mainland.  Species – Black Turnstone, Black-bellied Plover, Dunlin, Rock Sandpiper, Steller's Eider, Surfbird, and Western Sandpiper.

Kachemak Bay:  This IBA occupies 257,137 acres of pelagic open water habitat.  Species – Black Scoter, Kittletz's Murrelet, Marbled, Murrelet, Pelagic Cormorant, and White-winged Scoter.
CLam Gulch: This

IBA is located along the east side of Cook Inlet from just south of Clam Gulch to Bluff Point at the mouth of Kachemak Bay.  Species – Steller's Eider.
Anchor River: This 

IBA is located at the south end of the Kenai Peninsula between the towns of Anchor Point and Homer.

  Species – Blackpoll Warbler and Olive-sided Flycatcher.
Each of these IBAs have been designated as "Globally Significant".  For more information on what constitutes globally significant go to: web4.audubon.org/bird/iba/criteria.html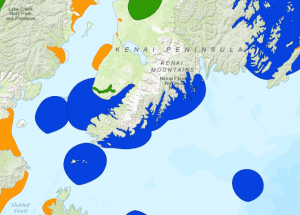 Blue (Marine), Green (Interior), Orange (Coastal)
Check out a map showing all of Alaska's Important Bird Areas:  http://docs.audubon.org/sites/default/files/documents/pelagic_metacolony_ecoregions_14dec2012_lr.pdf
FUN FACT:  Alaska holds the most globally-significant Important Bird Areas of any state in the U.S.