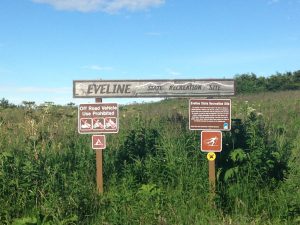 This is a small, 80-acre state recreation site location out East End Road near McNeil Canyon.  The park offers several different summer trails (and winter ski/snowshoe trails, as well), with no trail longer than 1.25 miles.  During the summer there are a variety of wildflowers in the meadows and along the trails.  Not to be missed.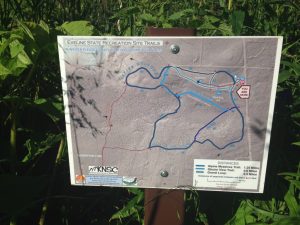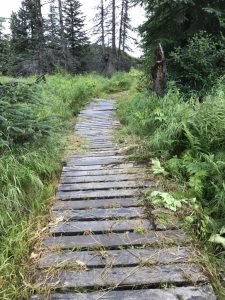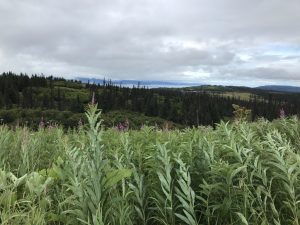 More than 45 bird species have been spotted in the park.  In the spring and summer, the best time to bird is during the morning hours.  Key breeding species include: Golden-crowned Sparrow, Fox Sparrow, Savannah Sparrow, Alder Flycatcher, and Orange-crowned Warbler.
Remember this is bear and moose country.  Be Aware.  
Directions:
From East End Road in Homer drive approximately 13.5 miles to Alpine Meadows Road.  There will be a state park sign just before the road.  Turn left onto Alpine Meadows and drive approximately ½ mile to the park.  There is a small parking lot on the left-hand side of the road.
Bird List:
Bald Eagle
Merlin
Sharp-shinned Hawk
Northern Goshawk
Northern Hawk Owl
Red-tailed Hawk
Sandhill Crane
Spruce Grouse
Willow Ptarmigan
Wilson's Snipe
Lesser Yellowleg
Gray Jay
Black-billed Magpie
Common Raven
Steller's Jay
Northern Shrike
Alder Flycatcher
Black-capped Chickadee
Boreal Chickadee
Red-breasted Nuthatch
Golden-crowned Kinglet
Ruby-crowned Kinglet
Hairy Woodpecker
Downy Woodpecker
Hermit Thrush
Swainson's Thrush
Gray-cheeked Thrush
American Robin
Varied Thrush
Wilson's Warbler
Yellow-rumped Warbler
Yellow Warbler
Orange-crowned Warbler
Townsends Warbler (R)
Blackpoll Warbler (R)
Golden-crowned Sparrow
Fox Sparrow
Savannah Sparrow
Lincoln's Sparrow (UC)
Lapland Longspur
Pine Grosbeak
White-winged Crossbill
Red Crossbill
Pine Siskin
Common Redpoll
Please note that many of these species are uncommon to rare.  Check the latest ebird for the most recent sightings:  http://ebird.org/content/ak/