Common Raven
(Corvus corax)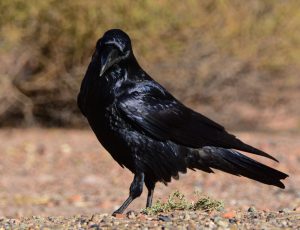 (Photo by Robin Edwards)
General Information:  Other than commonly seen, there is nothing 'common' about the Common Raven – a member of the Corvidae Family, Order Passeriformes (yes a "songbird").  There are eight subspecies of Raven, with the Common Raven of Alaska sharing the Corvidae Family spotlight with the Northwestern Crow, Gray Jay, Steller's Jay, and Black-billed Magpie of Homer.
The raven is often described as the 'Einstein of birds'—exhibiting unique problem-solving abilities and the ability to learn from observed behavior.  The brain of a Common Raven is among the largest of all birds.  And, as if the bird knows it is special and not common, the walk of a raven has been described as a swagger accentuated with a couple of hops as distinguished from the waddling crow.
Range: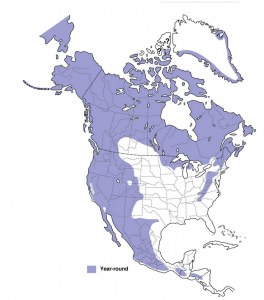 https://www.allaboutbirds.org/guide/Common_Raven/maps-range
Bird Biology:
Characteristics:  The Common Raven is a large bird, with glossy black feathers, a large bill, shaggy throat feathers, weighing in at 2.6 pounds, and 25 inches long – not your average Passerine song bird. Juvenile birds lack the shaggy throat feathers.

They are larger than the Northwestern Crow as demonstrated in the photo below.  A good way to distinguish a Common Raven from an American or Northwestern Crow is the by their wedge-shaped tails, best observed in flight. They are long-lived birds.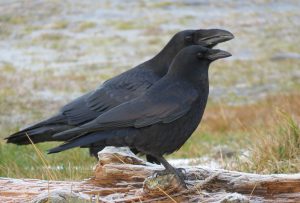 Northwestern Crow in the foreground, Common Raven in the background
Photo by Randy Weisser
Preferred Habitat: The Common Raven is often distinguished from the Northwestern Crow by habitat selection with the Raven preferring more open countryside areas near forested areas whereas the crow is more habituated to human presence.  However, being an exceptional bird, the raven provides an exception to the rule and is often found on Homer beaches with the reward of a good food supply and open space.
The Raven is adaptable to a wide variety of habitat — at home in the Alaskan Arctic, forest, grassland, and coast.  And, for you 'snowbirds,' the Common Raven is even found in the Southwestern, 'lower 48', desert.
Breeding Season:  Ravens mate for life.  In interior Alaska, mating behavior is displayed in mid-January with nesting beginning in mid-March.
Nesting:  Nests are large – essentially a pile of sticks, up to five feet in diameter and two feet in height, forming a platform of weaved sticks, and often found in the crouch of a tree or cliff overhang.  The male will salvage sticks or even break off tree limbs three-foot long to contribute to the nest.  The female is the interior designer making an inner cup 5-6 inches deep and 9-12 inches wide.   They generally pick a new nesting area each year.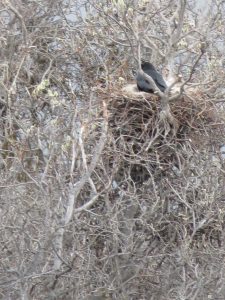 Photo by Michelle Michaud
Eggs and Incubation:  The female lays 3-7 eggs with an incubation period of 20-25 days.   The female incubates while the male brings food to the female. The pair has one brood a year.
The chicks are altricial – blind and featherless, thus helpless.  They are 'nest-bound' and require the care and feeding by both parents.
Fledging:  The chicks leave the nest about 4 weeks after hatching.  The remain with the parents after they fledge.

Food Preferences: The Common Raven has been described as 'feeding on practically anything' in its Omnivore style dietary preferences. They are opportunistic feeders.

The Common Raven is often a major predator, especially taking nest eggs of seabirds.  Foraging is often facilitated by a pair of Ravens as they incorporate clever methods of finding food.

They will cache or hide their food, and raid other ravens' caches.  They are known to regurgitate undigestable food (think pellets).  Their diet is mostly small mammals, but also berries and other fruit, grains, small invertebrates, amphibians, reptiles (outside of Alaska, of course), and birds.
They will follow a predator's tracks to a fresh kill; and will tug on the tail feathers of a raptor (such as Bald Eagle) to distract it so it can steal a bite of food.  This activity has been observed on the beach at Anchor Point during the summer fishing season.  Check it out next time you are there.

During the non-breeding season, they may travel up to 30-40 miles from their roost site to feed. 
Roosting:  In winter, Common Ravens may gather in flocks to forage during the day and to roost at night. During the rest of the year, they are often coupled, or in small groups. As many as 800 ravens have been seen in one roost near Fairbanks.  Now that is a lot of ravens.

Migration:  The Common Raven is a year-round resident of Homer – well throughout its range.  It has been the only bird present during the Christmas Bird Count in Barrow.

Vocalizations:  The Common Raven is described as a great mimic and possesses a varied repertoire of social vocalizations.  One study in Alaska showed ravens have more than 30 distinct vocalizations (including mews, whistles, even dripping water sounds).  The most common vocalization is deep guttural or croaking voice – it almost sounds like the Raven is talking to you, or voicing an opinion.  They are talented mimics.

Call:  cr-r-r-ruck 
Flight Call:  Kaw 
Fun Facts (there are a lot of them for the raven):
A flock of ravens is called an "unkindness".

Ravens have been described as playful, as an active learning strategy. 

They are known to recognize different individuals – both ravens and humans.

Juvenile ravens have been observed sliding down snowbanks and rolling in fresh snow, apparently just for fun.

Ravens seem to play in the air as well – flying loops, executing rolls, dive-bombing each other.

Edgar Allan Poe made the raven famous as a symbol of death.  The raven is a theme in much of Native American mythology. Alaska Natives; Tlingit, Haida, Tsimshian, BellaBella, and Kwakiutl all viewed the raven as the creator of the world and bringer of daylight. The raven is also important in the creation of myths by the Eskimo. The myths of the raven remain a significant social and religious component of Alaska culture.

Legend has it that if ravens leave the Tower of London the British Kingdom will fall. 

They were once slaughtered as pests (okay not such a "fun" fact). 

World's largest perching bird.

North America's largest songbird.

Juveniles do not breed until 3-4 years of age and will often help with feeding the subsequent young of their natal parents.
Conservation Status:  Ravens disappeared from much of the East and Midwest before 1900. In recent decades they have been expanding their range again, especially in the northeast, spreading south into formerly occupied areas.
The International Union of Conservation of Nature lists the Common Raven as a species of Least Concern – trend increasing.  The raven does not appear on the Alaska Audubon's Alaska Watchlist 2017.  There is an estimated 7.7 million Common Ravens.

Other Raven Species in Alaska: There are no other raven species in Alaska, but other members of the corvid family here include the Northwestern Crow, Steller's Jay, Gray Jay, and Black-billed Magpie. 
For more information:  The Common Raven has been researched extensively.  Several good books include:

Ravens in Winter, by Bernd Heinrich

Mind of the Raven by Bernd Heinrich

In the Company of Crows and Ravens by John M. Marzluff and Tony Angell
The National Audubon Society has a great video on ravens singing to their mates.  Check it out at:  http://www.audubon.org/news/listen-sweet-soft-warble-common-ravens-sing-their-partners
Sources of Information:
Alaska Department of Fish and Game.  Downloaded on 11 August 2018 at http://www.adfg.alaska.gov/index.cfm?adfg=commonraven.main
American Bird Conservancy.   Downloaded on 11 August 2018 at https://abcbirds.org/bird/common-raven/

Arnold B. van den Berg/Macaulay Library at the Cornell Lab
Cornell Lab of Ornithology.  All About Birds: Common Raven.  Downloaded on 16 May 2018 https://www.allaboutbirds.org/guide/Common_Raven/id
Marzluff, John M. and Tony Angell. 2005.  In the Company of Crows and Ravens. Yale University.
National Audubon, Guide to Birds of North America.  Downloaded on 11 April 2018.  http://www.audubon.org/field-guide/bird/common-raven
National Georgraphic Society.   Downloaded on 11 August 2018 at: https://www.nationalgeographic.com/animals/birds/c/common-raven/
The IUCN Red List of Threatened Species. Version 2017-3. <www.iucnredlist.org>. Downloaded on 16 May 2018.
Sibley, David Allen. 2001. The Sibley Guide to Bird Life and Behavior. Alfred A. Knopf. New York.
Warnock, N. 2017. The Alaska WatchList 2017. Audubon Alaska, Anchorage, AK 99501.  Downloaded on 11 April 2018.
William W.H. Gunn//Macaulay Library at the Cornell Lab
It's A Great Day to Bird